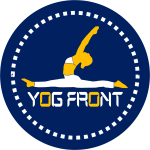 Welcome to the Yog Front. As the name indicates itself, it is the name of a yoga-connected organization, who have guts to come ahead for the Welfare of Yog and Yog Professionals.
It is an organization or family of yogic folks to empower Yoga Professionals. The main objective behind empowerment of Yog professionals is to maintain quality, preserve ancient yogic knowledge, and to serve society.
In another words we can say Yog Front is a non-religious, non-political and non-governmental organization of yoga to serve society by empowerment of Yog Professionals. Where we all are one and "Yoga is our vision, Yoga is our Religion, Yoga is our Needs and Yoga is our Deeds.
No organization is less than a family, but like a big family, Yog Front believe in unity and work as our slogan state that:
समानी व आकूतिः समाना हृदयानि वः । समानमस्तु वो मनो यथा वः सुसहासति ।।
which means:  "
United be your purpose, harmonious be your feelings, collected be your mind, in the same way as all the aspects of this universe exist in togetherness."
Yog Front was established in April, 2020 with the aim of raising voice against corruption in the field of Yoga. In which it was initially run as a mission under a human rights project.
It was started by Yogacharya Viney Pushkarna with some of his yoga students. Which grew over time and was later encouraged by some yoga organizations as well.
All India Association of Yoga Therapists
Pushkarna Research Association of Natural Aid
The Yog Front, with its methodology and modern technology, inaugurated several projects to empower the yoga teachers, while moving ahead to achieve the goal of 'Yog Unity'.
At the same time, the Yog Front gave its support for the development of a newly formed Yoga Federation in the month of July 2020 by its technology, methodology and preliminary project.
While working together on the projects suggested by 'Yog Front' to some organizations, we realized that they have some limitations or restrictions and somewhere they start to spread their propaganda and politics for personal interests. After which We the 'Yog Front' decided to undertake all its projects, ideas under its own organizational administration without any hindrance for social welfare.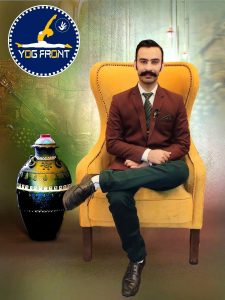 The foundation of this organization was laid by Yogacharya Viney Pushkarna in the month of March, 2020. Which started from a movement and officially came into existence as an organization on April 23, 2020.
Mr. Pushkarna is 'Post Graduate in Yoga', 'Bachelor of Science in Yoga' and 'Up-Vaid in Ayurveda' from Universities recognized by the University Grant Commission.
He has published two books of yoga internationally, and is also honored by the World Ayurveda Council for his works. Along with this, he is an advisor in many social organizations and is a member of the governing committee of some yoga organizations too.
AOR of
Yog Front
AOR of any organization is the main subject of identity. Which Stands for Aims, Objectives and Registration of any organization. In same way Yog Front have its aim, Objectives and Registration done, Which is we have explained here below.
Voice for Rights
The first goal is to raise the voice against the injustice done to yoga education and teachers. And to make every effort in the constitutional way till they get justice.
Our Vision
Our vision is to make every resource available to all the brothers and sisters associated with yoga in their life for their empowerment, employment and boosting themselves.
Lawful Work
Bringing the law to get yog professionals registered according to their qualifications. Teachers, Trainer as well as medical practitioners who taught yoga as a arts, game and science respectively. Through which each yoga section get develop and work under laws.
Transparency
The benefits of many schemes run by the government could directly reach the Yoga teachers. For this, creating a corruption-free route so that these schemes do not go into the wrong hands, but directly to qualified yoga teachers.
Quality Education
We are focusing on quality education mean while working on the different educational projects. For that we have classified some educational programs under the Service of "DIYA". Not only this we are working of different research based projects under our project "APRAJAY". To fulfill above goal we have started another service by which we provide study material under the project named "BAPU.
Yog Front been registered under society registration act 1860 (Government of India). We are registered to work all over India for the overall development and welfare of Yog Education, Yoga Teachers and Yoga Students.
Yog Front
Certificates
Yog Front has received some certificates awarded by some institutes / companies / organizations, including various departments of the Government of India.