Yog Front was Founded on March 23rd, 2020. 
Yogcharya Viney Pushkarna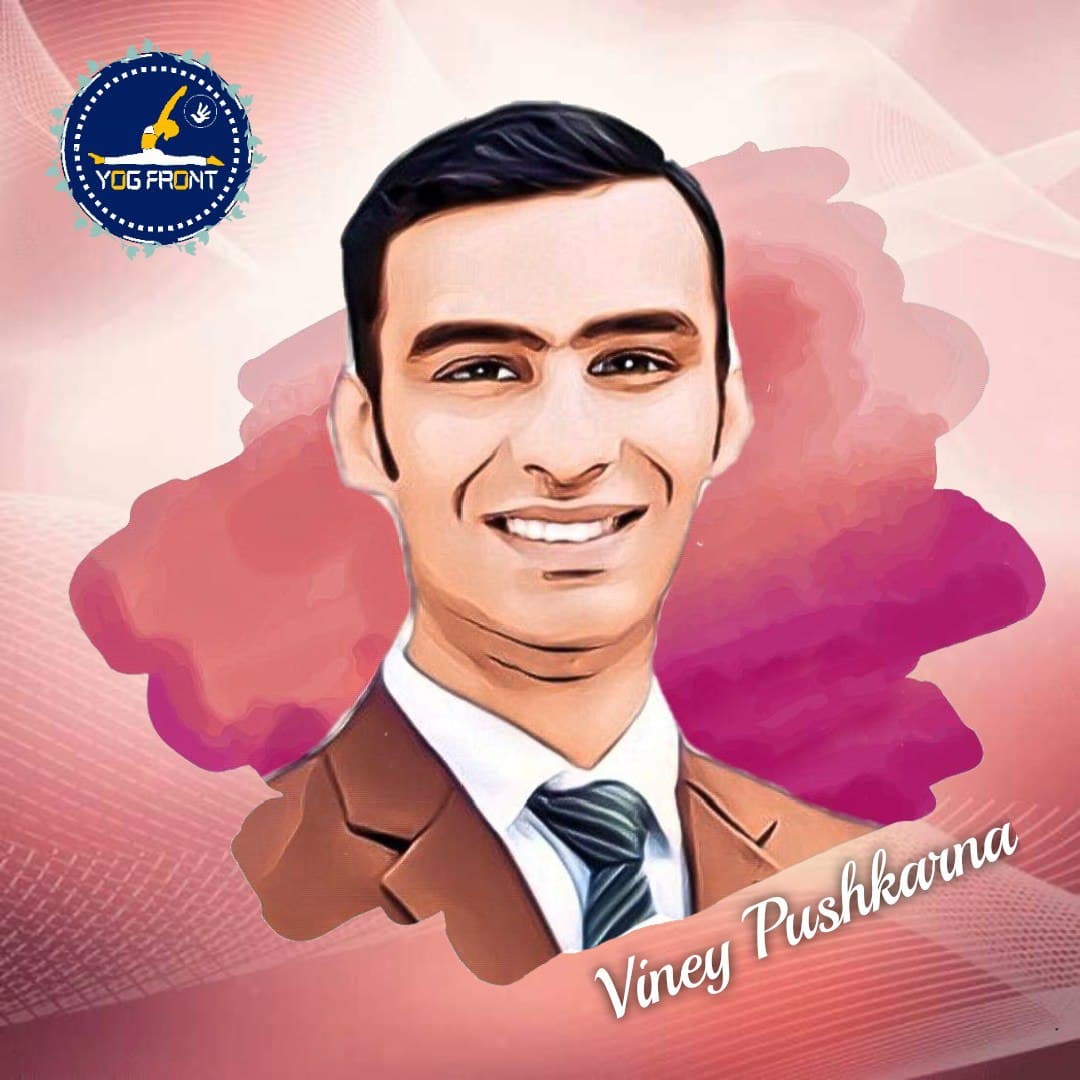 Viney Pushkarna 
Founder Yog Front
Pushkarna Niwas, Pushkarna Street, College Road, Qadian – 143516
Mr. Viney Pushkarna is the rising yoga personality who is known for his knowledge, friendly behavior and social work. He founded this Yog Front Organization with vision to stand for Yog Professionals.
Mr. Pushkarna is a prudent and peace loving yoga teacher who is dedicated for welfare of yoga and yoga professionals. He has been practising yoga since 2001, when he was a student of class 7th. His journey began with the practice of Hath Yoga (Principles given by Maharishi Gherand).
The journey of educational qualification in Yoga started in 2008 with Diploma in Yoga from India's renowned Ayurvedic College, Rishikul Government Ayurvedic PG College, Haridwar. After that he completed Bachelors of Science in Yoga and Siddha from a reputed government university of India. Taking this yoga journey forward, he received the honor of Yogacharya in 2015 while completing his post-graduation in the field of yoga.
Simultaneously, Mr. Pushkarna completed his Upvaidya in Ayurveda and obtained a Registered Upvaid's license as well as completed his graduation in Biotechnology also.
Talking about the experience, the experience in the field of yoga started in 2011 itself with a part time job where started giving yoga therapy in a small Ayurvedic clinic under the guidance of Ayurvedic Physician.
After this, in 2013, a job started in the state's famous Ayurvedic Hospital and College, Shri Laxmi Narayan Ayurvedic College and Hospital Amritsar. While on the one hand got the experience of teaching Ayurvedic doctors, on the other hand, he also got the experience of giving treatment through yoga to the patients in the hospital.
He is a good coordinator.
Multitasking person.
Good planning and concept creator
He had the privilege of conducting yoga sessions for some reputed organizations like Vishwa Ayurved Parishad, Yogpathy etc. Along with this, He had also got a chance to organize yoga seminars and camps in all the prestigious schools of his district. Talking about other skills, apart from yoga, he have good knowledge of IT.
Being a responsible person of this institution and society, his goal is to unite every person associated with yoga.
To give direction to Yoga teachers by making them self-reliant.
Raising voice against injustice being done to yoga teachers.
Empowering Yoga Professionals and working towards a brighter future of Yoga and Yoga Professionals.
Provide a better and corruption free environment to All Yoga teachers, disciples, lovers.
Awarded with Best Yoga Teacher Award by Dr. Ashvani Bhardwaj ( Vishav Ayurveda Parishad) in 2014.

Awarded with Guest of Honor award for Yoga Judgement in 2017 organized by R.D Khosla D.A.V Model Sr. Sec, School, Batala.

Awarded by Government of Punjab for conducting Yoga Session on International Yoga Day. 

Awarded by IAMC (International Ahmdiya Muslim Community) in 2015 for conducting session on  First International Day of Yoga.
Dear Brothers and Sisters of My Soul,
Firstly Being the Founder of this wonderful Yogi family, I would like to welcome you all to the house of love and brotherhood. And thank all of you who contribute to form this holy family known as "YOG FRONT".
If we talk about the motive behind creating this wonderful family, then this idea came due to the injustice done to the yoga professionals. Initially it was started as a movement which later registered as an organization with the support of other yoga lovers. It would be fair to say here that even though the idea and concept of the Yog Front was mine, but you are the ones who adopt it and create the Yog Front. That's why we say:
You Create It, We Deliver It.
Yog Front aims to empower Yogic society, Welfare of Yog Professionals and Disciples  associated with this beautiful journey of Yoga. We are working on some very influential and result oriented Yogic Projects through which we can not only benefit our Yogic society but the whole world as well.
At last i would like to invite all Yoga Professionals, Qualified Yoga Teachers, Yoga Disciples to Join this beautiful Yogic Family, which will help to strengthen the movement, that we have initiated for welfare of yoga professionals and society.
Yogacharya Viney Pushkarna