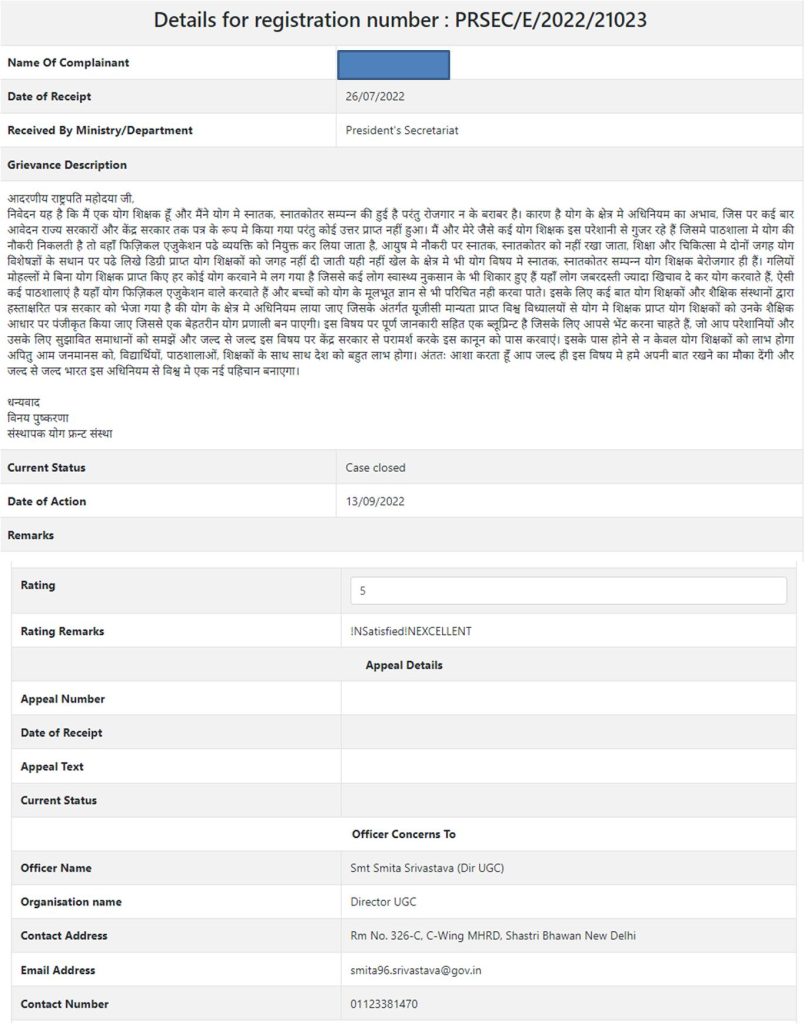 Yog Front Organization has filed an application for Grievance at the President's Office on 26th July 2022. They marked this application to Mr. Bherav Dutt. There is no response from them. Thereafter today We came to know that our Grievance has been closed with further transfer to IUCYS Director Office through email by Dr. Manju Singh (Joint Secretary International Cooperation University Grants Commission) but no right answer and information has been shared or sent to us directly. Which is further transfered to Mrs. Smita Shrivastava who is Join Director UGC from where this complaint is marked close autometically without any reply. Even they rate their reply as five star by own.
Even We wrote an email to Mr. Bherav Dutt too to respond on 25th of August 2022. Now it marked as disposed without any solution. So then we request to Nodal Authorities Please follow up this matter and help us. We and thousand of qualified yoga professionals those have attained Degrees in Yoga from Universities those are approved from University Grant Commission are suffering due to non proper norms and policies. Many protest has been done in Uttrakhand, Delhi, Punjab and Madhyapradesh for Yoga Jobs but no solution given till now. Please help us and help nation to save its youth.
This we wrote to Mr. Mrutyunjay Behera (Economic Adviser) Department of Higher Education on their email id i.e Mrutyunjay.b@nic.in. But no response from anyone.