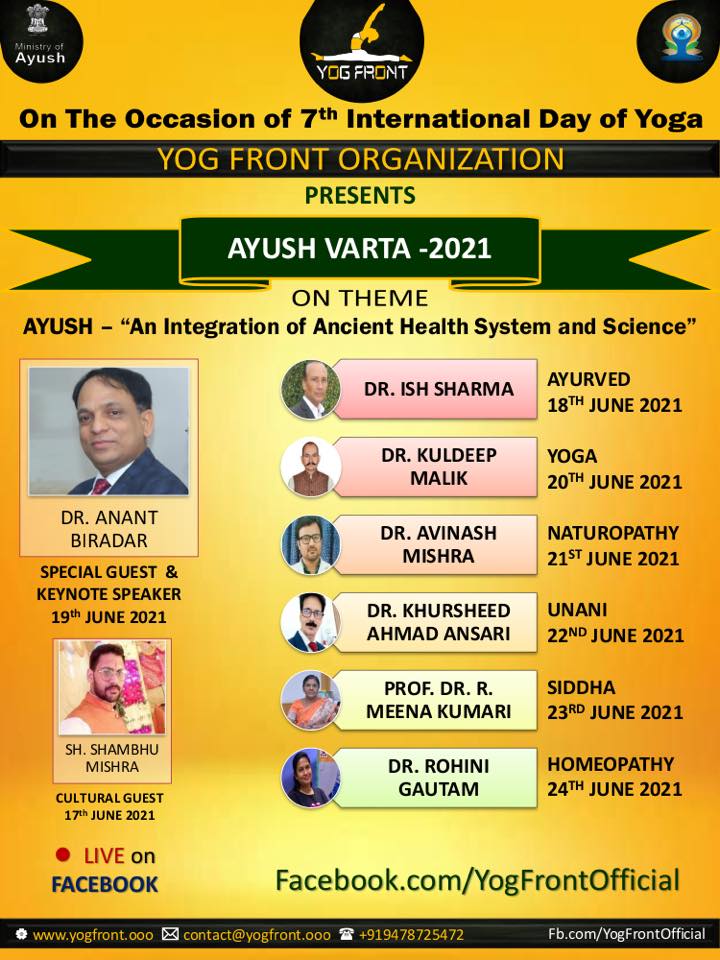 A beautiful talk on all Indian Health systems with their experts by Yog Front Organization. Which is first ever initiative in history where all the experts of Indian Health sciences join a single program "AYUSH VARTA" to guide people about their pathies and explain the importance of  "YOGA" and support the demand of Yog Front for making Law for Yoga.  
On Inauguration of AYUSH Varta Mr. Shambhu Prasad Mishra (Sanskrit Song Presenter at DD News) joined us as Cultural Guest.
Dr. Ish Sharma (Examination Controller in Ravi Das Ayurveda University, Hoshiyarpur Punjab) joined as Ayuveda Expert. 
Dr. Anant Biradar (President of International Naturopathy Organization)  joined us as Special Guest and Keynote Speaker.
Dr. Kuldeep Malik (Founder of Vedaarna Foundation Noida UP)  joined us as Yoga Expert.
Dr. Avinash Mishra (Naturopath at CCRYN Unit Bhopal & Former Physician in BCCI)  joined us as Naturopathy Expert.
Dr. Khursheed Ahamad Ansari
Dr. Khursheed Ahmad Ansari (Associate Professor Jamia Hamdard University)  joined us as Unani Expert.
Prof. Dr. R. Meena Kumari
Prof. Dr. R. Meena Kumari (Director of National Institute of Siddha)  joined us as Siddha Expert.
Dr. Rohini Gautam (Medical Officer in  New Delhi)  joined us as Homeopathy Expert.