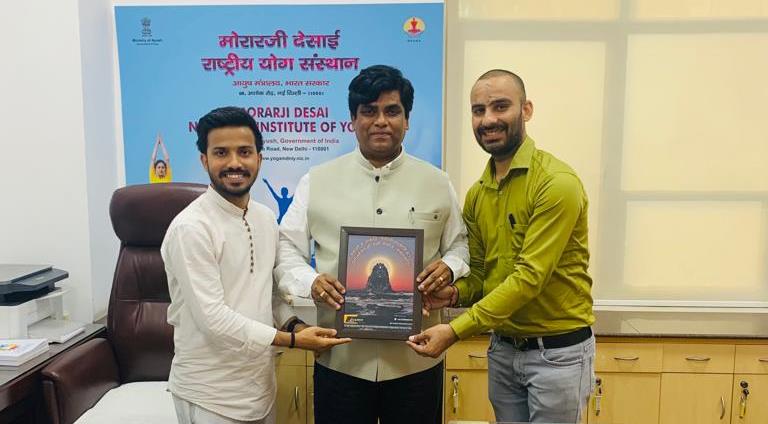 As you all know, Ishwar Basavareddy ji has had an important position in the field of Yoga. He was not only the director of Morarji Desai but also the head of many projects of Yoga. He is even the head of the Yoga Certification Board and the person who set up the board.
Many of you may know that this is the person who along with Shri Ram Kishan Yadav ji formed the Yogasan Federation and he was also its first president. Whatever has happened since last 2014, they have been present directly or indirectly.
Often people say that Yog Front organization is with Basavareddy ji or against him? Because the founder of Yoga Front is the first person, who went and met Basavareddy ji's office in 2014 and told him directly that you are doing wrong. This will be a great loss to all yoga professionals. And each and every platform through which their wrongdoings could be opposed was done by the founder. Because of which perhaps the idea has arisen among the people that the Yog Front organization is against them. But our organization is never against any person, we deny their wrong deeds and support good deeds.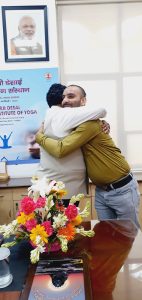 The best example of this is being invited by Mr. Ishwar Basavareddy to his retirement party. The founder of Yog Front Sanstha Mr. Viney Pushkarna ji and President Mr. Roshan Pathak ji met him in his office on his retirement and presented him a gift giving good wishes on behalf of Yog Front Organization. Legislation in field of yoga and irregularities in yoga were again discussed during this meeting. In which it was said by the organization, if you wanted, you could have done many things. To which Mr. Ishwar Basavareddy ji said that I tried to do whatever was possible, but being on a government post, I have some limitations, which I cannot cross. Now I am going to start a new journey of life. You are doing very good work through Yog Front Organization. Best wishes to you. Keep working like this continuously.
A message By Mr. Ishwar Baswareddi Ji . 
Here we want to make it clear to you that Mr. Roshan Pathak ji or Viney Pushkarna ji or any member from the organization did not go for the dinner party. The reason is not that I wanted to express any opposition towards Mr. Ishwar Ji. Rather we believe that as long as lakhs of Yoga teachers are unemployed and they are unemployed due to government policies, we did not like to be guest in the party by government or government officials. It was not in favor of our principles and Shri Ishwar ji also knows about it.