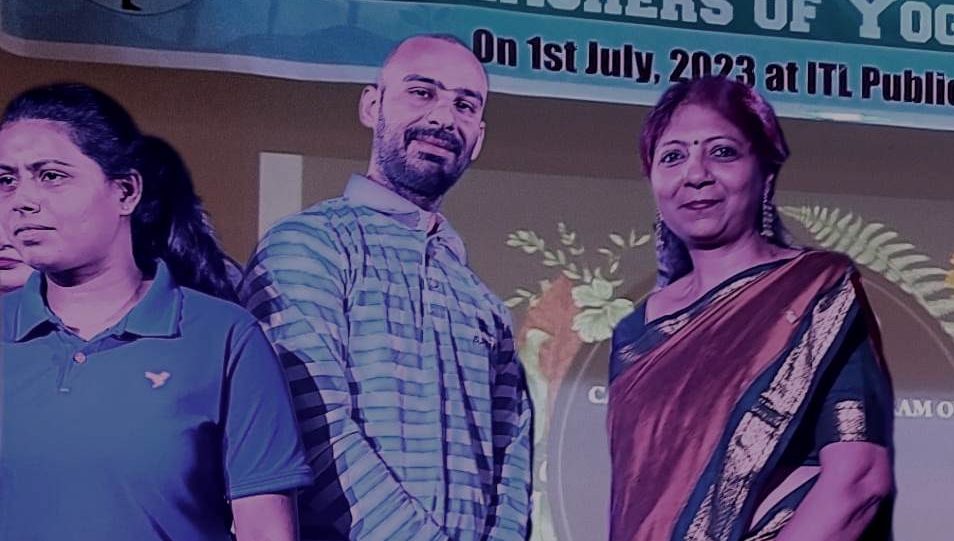 Got a chance to meet CBSE officials and planning committee at a national event today. This program was organized by CBSE as '841 code subject' under Skill Education. In which more than 400 teachers from all over India were present. In this program 'Dr. Navneet Kaur ji' who is the Principal of 'The Shri Ram Universal School, Ludhiana' and appeared as a master trainer from CBSE side in the programme. She was also accompanied by Ms. Aarti Gupta, who has been posted at G D Goenka School as a Yoga Educationist since 2017 and was present as a core member of the CBSE Skill Education Committee.
In the programme, the issue of lack of proper policy regarding yoga education in schools was raised by Mr. Vinay Pushkarna, founder of Yog Front organization. When the topic was raised and placed in front of everyone, it received support from all the yoga teachers. In this, Vinay ji told that people without education in yoga are teaching yoga, which is actually not only dangerous but also unethical. On the one hand, the rights of yoga teachers are being violated, while on the other, the health and education of the children are at stake. 
Raising this issue in front of Ms. Aarti Gupta and Ms. Jyoti, (Chief Advisor CBSE Skill Education) requested them to write to the ministry and department that taking cognizance of this issue, ensure that they pass orders for the appointment of PRT, TGT, PGT yoga teachers in schools. And the level of their education should also be ensured like other subjects. So that yoga professionals get their rights and students get good and educated yoga teachers. 
In this regard, a proposal was sent to Ms. Jyoti ji by the Yog Front organization, in which the provision of ensuring yoga education through yoga law has also been told.