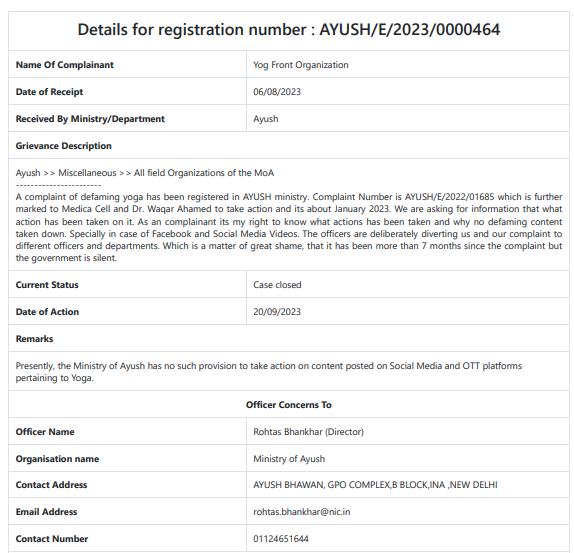 Yog Front Organization had complained that Yoga was being defamed through Facebook, YouTube and other social media. Evidence of which was also made available. Not only this, a written complaint was also sent to Facebook and YouTube. On which the Ministry of Information and Broadcasting had said that in the special case of Yoga, the Ministry of AYUSH has retained the right to take action on such complaints.
After which a complaint regarding the defamation of Yoga was sent to the Ministry of AYUSH, in which the Ministry of AYUSH sent the complaint to the media cell of the Ministry and put this complaint on hold. After repeated complaints and taking the complaints before the judge, the first reply received from the Ministry was that it had written to CCRYN regarding this but no reply was being given and no action was taken. The answer to which has now been received is that the Ministry does not have any such provision which can stop the defamation of Yoga.
Is this the reason for not taking action?
If we look at some aspects, it seems that there is no provision for action, otherwise how can other social media work be done without this provision. That is, work is being done even if there is no provision for doing other work, but when it comes to action, provision is necessary. That means law is necessary. Come on, we are already demanding the law. Just pay attention, is action being taken because of the problems mentioned in the complaint?
Complaint against Meta Company for depicting Yoga with shoes.
Ram Kishan Yadav's yoga on elephant and falling down, which was contrary to the definition of asana by Maharishi Patanjali.
Yoga being portrayed in an objectionable manner in songs.
Many big companies associate and show yoga with burgers, pizza, mobile phones and computers etc. which is against the principles of yoga.
Many comedians, serial makers or actors who have now joined politics have made humorous comments on yoga in the past.
You decide what the reasons could be. But do tell in the comment below whether you are with us in the fight for law in Yoga, in which Yoga will not only end the defamation but will also provide employment and justice. Leave your thoughts below.